Fermented Sweet Banana Pepper Rings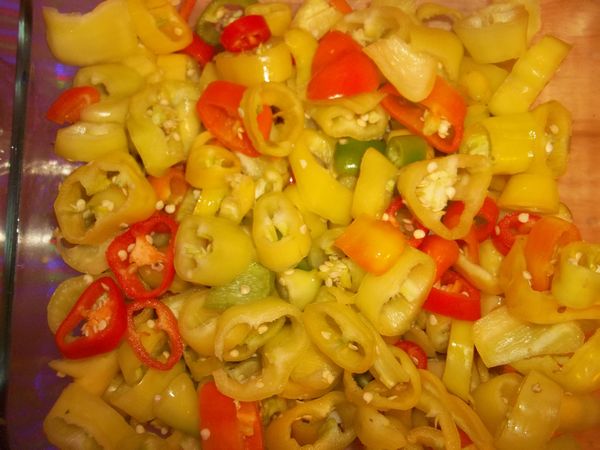 Recipe type:
Fermented condiment
⅛ tsp. ground cloves
⅛ tsp. ground nutmeg
⅛ tsp. ground cinnamon
⅛ tsp. ground allspice
⅛ tsp. ground mustard
⅛ tsp. ground ginger
1 tablespoon pickling salt
12 dried stevia leaves.
15 nice 5-6" banana peppers [a few were large hot peppers I am sure :)
Choose a slice for your peppers according to preference. We use "rings" in this recipe.
Firmly pack peppers into the quart jar leaving 1" head space
Add spices and then top with salt and leaves.
Add your weight and then add water to cover.
Place an airlock lid securely on the jar and place on the counter until taste is where you want it according to tanginess.
This is an ideal use for small amounts of peppers from your garden. Using the mason jar systems lets you fine tune your recipe without having a large amount of "not so right" results that accompany our learning process. If you fail you can also dehydrate and still retain the probiotic and vitamin goodness of the fermenting process.
Recipe by
SS Prepper
at https://ultimatepicklejar.com/wordpress/2017/06/07/fermented-sweet-banana-pepper-rings/