Drying tomatoes just makes sense to us. Tomatoes by nature are highly perishable and seasonal. They are used for flavoring and take a lot of room to store whole. You can enjoy the flavor using dried tomato products and make them at home for a fraction of the cost of store bought. If you are a gardener this is ideal for preserving super small batches as all you have to do is slice and place in the dehydrator a few at a time instead of cranking up the canner.

Drying Tomatoes
Easy and quick instructions to dry tomato for later use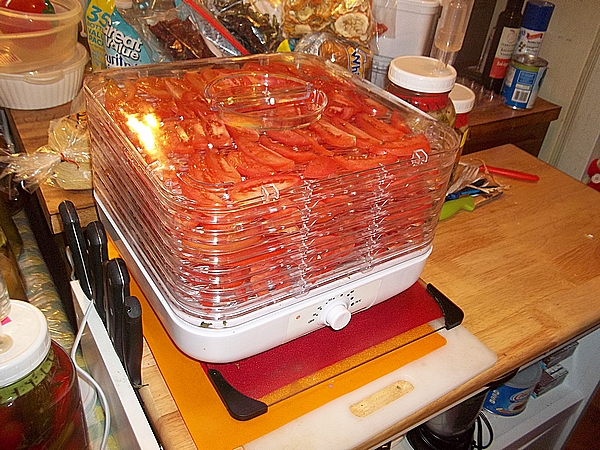 Prep time:
Cook time:
Total time:
Instructions
Cut and slice your tomatoes. Choose fresh and un bruised fruit only
Place on dryer trays allowing room for air to pass from layer to layer
Dry at 140 deg F until crispy.
Store in mason jars for 10 days to check for any moisture developing signifying that they need to be dried a little more. This is called seasoning.
Once seasoned, you can store in mason jars or vacuum pack. Make sure to label your container with packed date and contents.
Notes
Dried tomatoes can be used in slices or ground into powder for quick and easy seasoning. Great space and time saver!
Once dried and packaged, you can throw in a handful into a quick soup or sauce in a fraction of the time of slicing fresh. They make good healthy snacks as well.