Sauerkraut is so easy and rewarding to make!
This recipe was inspired by one offered at MakeSauerKraut.com by Holly Howe. She is a real sauerkraut and fermenting expert and is our go-to source of inspiration. A great coach for all fermenters!

Pineapple Sauerkraut
A simple recipe for home made fermented sauerkraut with a pineapple flavor. Using the small batch methods , one can whip up many flavors at one time and be able to sort out the recipes they enjoy most. Easy to change to suit anyone's taste!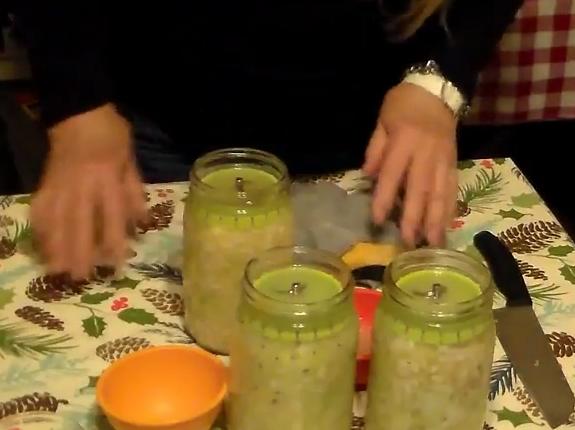 Ingredients
1 20 ounce can of preservative free pineapple [drained]
2 medium heads of cabbage
caraway seeds to taste
ground cloves to taste
nutmeg to taste
1 tablespoon UN-iodized salt per 2 pound sliced cabbage [we use a fine grind. If using coarser grind use a little more]
Instructions
Slice your cabbage to desired thickness. The larger the shred , the longer it will take to ferment to desired taste.
Add 1 tablespoon salt to each 1.8 pounds cabbage [this will allow salt for the pineapple when added later].
Massage the cabbage and salt until it is showing about 2 ounces of liquid from every 1.8 pound used.
When desired brine liquid has appeared, add the pineapple and mix well.
Divide the cabbage mixture into 2 pound batches and add your desired seasoning. We made a caraway batch, a nutmeg/clove batch and used the larger leftover pieces from the slicer to make a mix of both to use in stir frys!
Mix spices and pack firmly into the jars. Fill to just below the jar throat and place your weight on top of the packed cabbage.
Top with left over brine. Sprinkle a little extra salt on top of your brine for a little extra protection against unwanted molds and we recommend using a tight lid and airlock.
Place on counter [ place in shallow plate or container to catch any overflow from the active fermenting process ] out of direct sunlight in a temperature of 68-78 deg F for 10 days before checking flavors. We leave ours for a minimum of 3 weeks.
Keep an eye out for overflow and open only when you suspect there could be a problem developing due to color change etc.
Notes
Please read our other articles on home fermenting. There is not a thing as "Set it and forget it" You should take the time to learn the fermenting procedure and signs to look for as your ferment progresses.
Sauerkraut is such a variable food. It is not just the type eaten on the hot dog anymore. Ok, "anymore" is not a good word here. There has always been specialty krauts but have been hidden from us and usually only available in ethnic markets and restaurants.
Today we will try some different flavors and see how they turn out. Sauerkraut is easy to make at home and very economical as well.
Pineapple Sauerkraut
We sliced the cabbage and the larger pieces that were unsafe to continue running thru our slicer were used to make a blend suitable for a stir fry.
This turned out simply awesome! We would never have tried this in the old days but am very thankful for Holly for showing us the way! Simply awesome! It is now a regular here in our home.