We raise quail… Ok, we are experimenting at raising quail! We got 3 dozen eggs our first week and will pickle them according to a recipe we found online..
Of course like any recipe, you can modify according to your palate.
We boiled the eggs and forgot they were on the stove and did not stir them. Supposedly , not stirring will cause the yolk to move off center!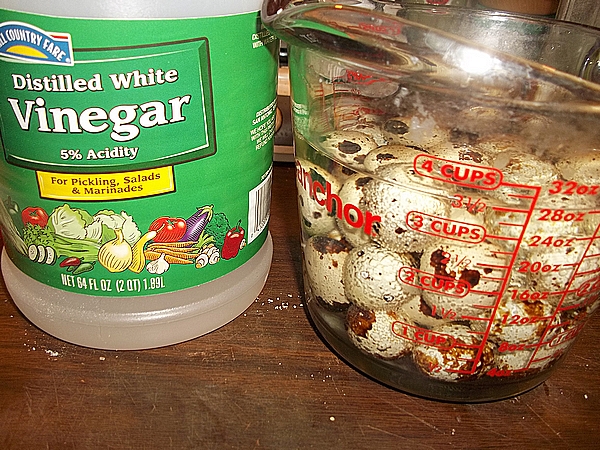 Next , we soaked the boiled eggs in vinegar which dissolves calcium from the eggshell and leaves only the membrane which is then rubbery and easier to remove! Never expected this much activity though 🙂
AND THE SPOTS COME OFF TOO! It took about 2 minutes to see this happening! Way cool! They are supposed to soak 12 hours to remove all the shell.
Next is perfecting the spices and covering with vinegar. Process as directed and allow a week to let the vinegar and spices penetrate the egg!
Ok we got impatient! Peeled them all and needed maybe 2 dozen more for a quart and added some pre-made spice! ANd added the mandatory pepper 🙂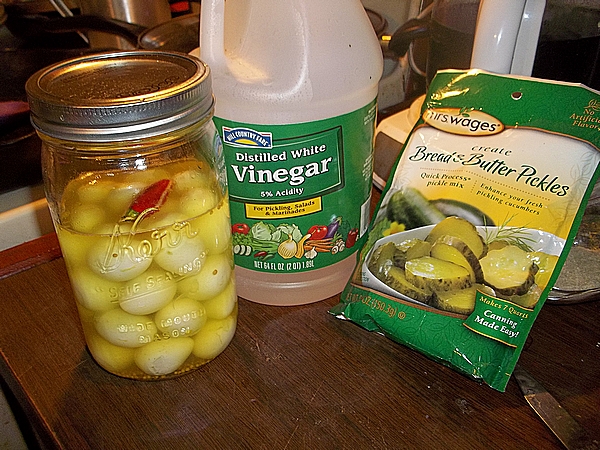 Next week of so we will try again 🙂 By the way, I found them identical to a chicken egg in taste.